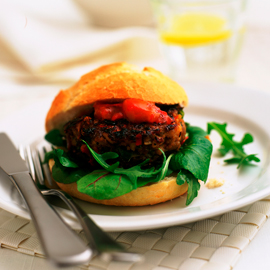 Here is one of my favorite burger recipes. It was inspired by my mother who was German/Polish, but I added my own touches to it. Not only is it low-fat because I substitute for ground beef, it is also a sensible choice for other nutritional factors:
I use 1 1/2 pounds of ground up turkey to make 6 burgers. Chop 1/2 green pepper and 1/4 onion – I prefer to use organic. Add to the ground up turkey and mix well. For seasoning I use 1 teaspoon fresh garlic (can be the chopped kind in the jar), red pepper, chili powder, and a little bit of black pepper – NO SALT!
Form patties and put on a foil lined baking sheet sprayed with low-fat no stick cooking spray. Bake in the oven at 350 degrees for 40 minutes.
I use 1 slice of Jewish Rye bread cut in half to hold each burgers and add a little hot sauce as dressing. If you like it to look more like a hamburger, use a whole wheat hamburger roll instead.
Source:
Image Credit